2018 Sperber Award Celebration
The 2018 Robert I. Sperber Award for Administrative Leadership is presented to Janet MacNeil, who served as Pre-K-8 Science Curriculum Coordinator until June 2018 at the Public Schools of Brookline. Janet MacNeil has contributed to the betterment of the Brookline Public Schools in large and small ways. She has been instrumental in revitalizing the science curriculum for Pre-K -Grade 8 to become more hands-on, more interdisciplinary, and more accessible and engaging for all students.
The Brookline Education Foundation will celebrate Janet's accomplishments and career on Thursday, October 18, 2018, at the Lincoln school auditorium at 4:00 pm.
About Janet MacNeil
Janet is passionate about creating and sharing materials to ensure that all children are actively engaged and successful in science and engineering. She is a Science Education Consultant to the National Science Teachers Association (NSTA), an NSTA Curator (curating resources for teachers nationwide), and a member of the ACHIEVE Peer Review Panel. She is co-author of "The Stories of Science: Integrating Reading, Writing, Speaking and Listening into Science Instruction, 6-12" and numerous other publications, and holds a Master's degree in Environmental Pollution Control from Pennsylvania State University. In her spare time, Janet plays the French horn with the Quincy Symphony Orchestra.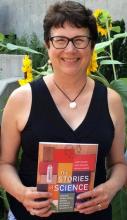 Past Celebrations
Janet MacNeil is the fifth recipient of the award. Prior recipients are Vicki Milstein (Principal of Brookline Early Education Programs), Bob Weintraub (former BHS headmaster), Barbara Shea (former Lincoln School principal), and William Grady (former Director of the BHS Opportunity for Change Program).