Annual Fifth Grade Spelling Bee
The Brookline Education Foundation 5th Grade Spelling Bee took place on Sunday, November 17, 2019.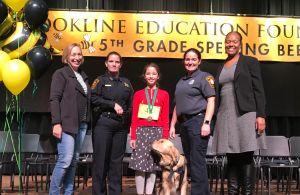 November 2019 – Sergeant Jennifer Paster, Officer Katie McCabe with Officer Bear, Bee winner, Astrid Young, and Deputy Superintendent Dr. Nicole Gittens
The first place winner in our November 2019 5th Grade Spelling Bee was Astrid Young from Heath School. The winning word was "quintessence."  Runners-up were Joshua Doctoroff, from Runkle, Rui-han Ji, from Heath, and Matthew Shin from Baker.
Congratulations to our winner and to all the students who participated in our Bee!
How does the Children's Spelling Bee work?
The 5th Grade Spelling Bee is an "old-fashioned" spelling bee with the spellers taking turns, each spelling a different word. Once a speller misspells one word, he or she is out of the Bee. Prizes are awarded to the winners and each speller receives a certificate for participating. For details on how the Bee works, see Spelling Bee Rules and Procedures.