Annual Fifth Grade Spelling Bee
The 2021 5th Grade Spelling Bee was held on November 14 in the Brookline High School auditorium. Congratulations to all of the participants, and thanks to all of the volunteers who made this event possible!
How does the Children's Spelling Bee work?
The 5th Grade Spelling Bee is an "old-fashioned" spelling bee with the spellers taking turns, each spelling a different word. Once a speller misspells one word, he or she is out of the Bee. Prizes are awarded to the winners and each speller receives a certificate for participating. For details on how the Bee works, see Spelling Bee Rules and Procedures.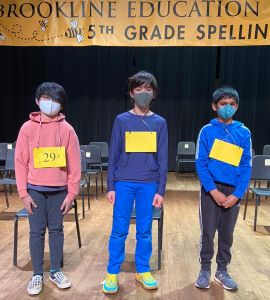 2021 Spelling Bee
Congratulations to this year's winner, Kris Barbarin of Heath School, and this year's runners-up, Raj Amin of Baker School and Felice Vittolo of Pierce School.
The winning word was etymology.
Thank You!
Pronouncer, Brookline Librarian Caroline Richardson,
Head Judge, Meghna Chakrabarti,
Judges, Seargeant Casey Hatchett and Officer Katie McCabe, and Officer Bear!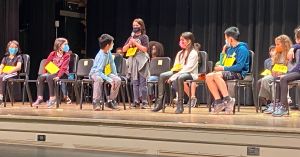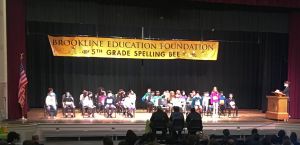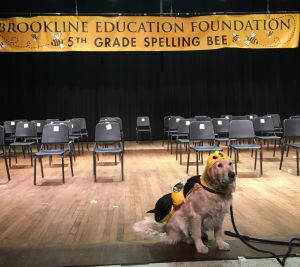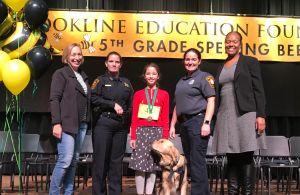 2019 Spelling Bee
L-R: BEF Executive Director, Elizabeth Ascoli, Lieutenant Jennifer Paster, Bee winner, Astrid Young, Officer Katie McCabe with Officer Bear, and Deputy Superintendent Dr. Nicole Gittens
For 2019, the first place winner in our 5th Grade Spelling Bee was Astrid Young from Heath School. The winning word was "quintessence."  Runners-up were Joshua Doctoroff from Runkle, Rui-han Ji from Heath, and Matthew Shin from Baker.
Congratulations to our winner and to all the students who participated in our Bee!