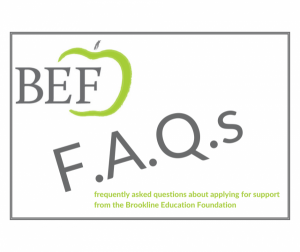 We surveyed Brookline educators in the Spring of 2023 – here are some of the questions you asked us! Please reach out to us anytime for more information on any of these or any other questions you may have!
Can you help me come up with some good ideas for grants?
Yes! Visit our website and peruse recent grants that we have awarded – there are some great ideas in there!
Do BEF grants have to be from teachers of academic subjects?
No! We make grants to specialists, administrators, paraprofessionals, and also teachers of "core" academic subjects. Some recent grantees include literacy specialists, wellness and physical education teachers, music teachers, and guidance counselors.
I'm worried that my grant won't be accepted – can I look at examples of successful grant applications?
Yes! There are several provided on our website – look here for successful examples of Teacher grant applications, here for Collaborative, and here for Idea Lab.
I want to apply for a grant but I always seem to run out of time! Can you help with that?
We can try! If you're thinking about an Idea Lab grant, start thinking about it over the summer or at the very beginning of the school year – these are quick-turnaround and the applications happen in October. If you're thinking about a Teacher or Collaborative grant, start thinking about it in the fall so you'll be ready when applications open in December. They are due in March. But the application really doesn't change much from year to year so you can start working on it whenever you find the time, and just watch your email for when deadlines start to approach.
Your format of downloading a Word document, filling it out and then uploading it is unwieldy and makes it hard to share with my collaborators. Is there another way?
Sadly, this is the best way we have found to manage all of the information we receive about each grant. We suggest that you copy the questions from the application into a Google document to share with your collaborators, and then when the application is complete, copy everyone's work back into the Word document to upload it with your application.
I need guidance on this process! Can you help me?
Yes! We want to help! We provide four organized help sessions – two grant information sessions in January and two grant writing workshops in February – you can drop in to any or all of those and we will be on hand to answer questions and provide support. And you can always call our office: 617-232-3846 or send us an email (elizabeth_ascoli@brooklineeducation.org or jennie@brooklineeducation.org) and we will be happy to talk things through!
I had a grant years ago and it took forever to get reimbursed! I don't want to deal with that again.
Great news! We have worked with the PSB office to refine our reimbursement processes – now most expenses get paid directly out of our office or reimbursed directly from our office, generally within one week of when we receive the receipts or invoices. Time spent collaborating is still paid for through the PSB office, and that will come through payroll.
I'm a literacy specialist – should I write a grant to advance my skills with Orton-Gillingham or Wilson, or will you not pay for that sort of training?
We have been collaborating with the District to support bringing these important instructional methodologies to literacy specialists. If you're a literacy specialist looking to participate in the next level of training for OG or Wilson or to attend a conference, definitely apply for a grant! Sometimes we can pay for it, and other times the District will pay for it instead. If you're a classroom teacher interested in pursuing this, give us a call to discuss it – it may be a little more complicated. If you're looking for us to pay for you to receive advanced certification, unfortunately we can't do that.
Are there any restrictions or rules I should be aware of as I plan projects for my professional development in the future?
We hope Brookline educators will think broadly about their professional development wants and needs, and make plans that will allow the BEF to support their goals! As you map out your plans, remember the following:
Teacher Grant recipients are not allowed to apply for another Teacher Grant in the year immediately following their grant (in other words, we can't fund Teacher Grants in consecutive school years);
Collaborative Grants are not allowed to include international travel;
All grant recipients are expected to continue their employment in the Public Schools of Brookline in the year following their grant.