Margaret Metzger (1945-2013) taught English at Brookline High School for over forty years, influencing thousands of students and educators through her teaching, writing, and mentoring. She was a 2005 recipient of the BEF's Ernest R. Caverly Award for Excellence in Teaching.
Margaret's impact on education continues to be enormous. In honor of her life and achievements, the BEF has established the Margaret Metzger Fellowship Fund to support a fellowship grant program for at least 3 to 5 years. The 2019, the BEF hosted its fifth year of the Fellowship; we are very proud of the thoughtful, profound, and moving essays that resulted over the years.
The Margaret Metzger Fellowship was created to support the continuation of Margaret's work: thinking about the classroom, writing about teaching, and furthering the art of educating young people. In this time of frequent testing, Margaret's belief in education as transformative and rigorous is more important than ever.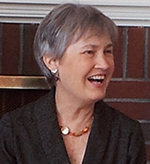 "In education, I do not find answers, but I do find questions worthy of a lifetime of thought." – Margaret Metzger's 2005 Caverly Award Speech
2021 Margaret Metzger Fellows: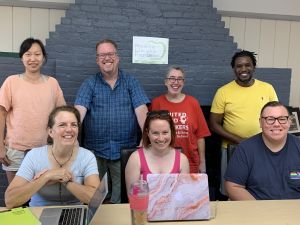 Susan Balogh, Baker School, 7th Grade, Social Studies
Zac Broken Rope, Brookline High School, SWS, English
Alisa Conner, Brookline High School, Spanish
Will Gordon, Lawrence School, Paraprofessional
Colleen Kavanagh, Runkle School, 5th Grade
Wan Wang, Driscoll School, Mandarin
This year's event will be a hybrid one, held on Friday, October 15, 2021 at 5pm. There will be a small number of guests in the auditorium to hear the teachers read their essays aloud. The rest of us now have the opportunity to stream the event live at this link:
brooklineinteractive.org/live
! You will also be able to watch the event at a later date from our website.
2019 Margaret Metzger Fellows:
Mireille Blau, Coolidge Corner School
Paul Epstein, Brookline High School
Rebecca Hayden, Brookline High School
Evan Mousseau, Brookline High School
Lauren Ockene, Pierce School
Meghan Walsh, Runkle School
The Margaret Metzger Fellowship Event was held at the Lincoln School Auditorium on Friday, October 4 2019 with over 200 people in attendance! Watch the video here.
2018 Margaret Metzger Fellows:
Chari Dalsheim, Heath, 2nd Grade
Isabella Delatorre, Coolidge Corner School, Spanish
Cathy Fischer-Mueller, Coolidge Corner School, Middle School Social Studies
Sophie Gorlin, BHS, English
Melissa London, Pierce, Middle School Science
Shelley Mains, BHS, Librarian
View a video of our September 28, 2018 Fellowship event.
2017 Margaret Metzger Fellow Recipients:
Liz Exton, Lawrence Kindergarten
Dominique Gonyer, BHS French, Latin and Spanish
Jenna Laib, Driscoll Math Specialist
Amy Morissey, BHS English
Jeremy Ward, Lawrence 3rd grade
Lisa Ziegler-Chamblee, Lincoln Middle School Special Education
View a video of our October 13, 2017 Fellowship event.
2016 Margaret Metzger Fellow Recipients:
Jen Rose-Wood, BHS English
Malcolm Cawthorne, BHS Social Studies
Teresa Gallo-Toth, Runkle Librarian
Marie Leman, Lawrence 3rd grade
Greg Porter, Lawrence Social Studies
Jan Preheim, Lincoln 5th grade
2015 Margaret Metzger Fellow Essays:
Mary Angione (BHS), Tracy Bare (Pierce), Keira Flynn-Carson (BHS), Andrew Garnett-Cook (Heath), Dianne Muendel (Lawrence), Julia Rocco (BHS)