The Brookline Education Foundation's annual event in May, "Celebrating Teachers," is a special opportunity to celebrate the talent, enthusiasm, and dedication that Brookline's educators bring to our schools each day. This year, unfortunately, we are not able to gather in our usual way, so we will be broadcasting the Caverly Award winner's speeches live through Brookline Interactive Group. Our 2021 Caverly Award winners are Francesca Stark from Driscoll School and Betsy Davis from Brookline High School. You can read more about their achievements on our blog post.
Recipients of teacher, collaborative, and systemwide grants, as well as the Adam Russell Gelfand Fellowship and the Charlie Baker Legacy Award, are also announced. The highlight of the event is the introduction of the Caverly Award recipients. It was a wonderful event and a great opportunity to show our appreciation for our inspiring and dedicated teachers.
Mark your calendar our next Celebrating Teachers on May 11, 2021 – virtual, Live broadcast on BIG.
Below are pictures from Celebrating Teachers, 2019.
2019 Caverly Award Winners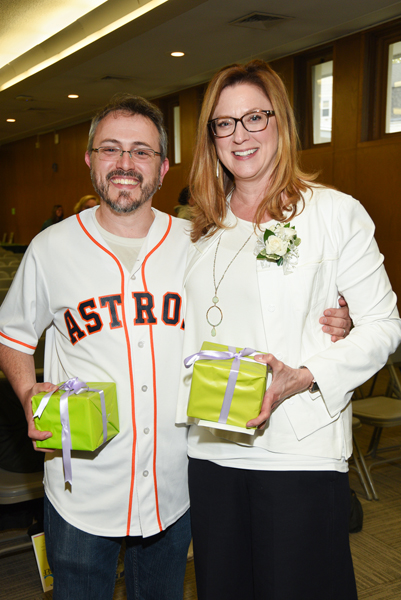 The 2019 Caverly Award for Excellence in Teaching recipients are Laura Vish, Speech and Language Pathologist at Runkle School and Mark VanDerzee, Drama and Improv at Brookline High School.  To watch their incredible acceptance speeches, please click here:
Mark VanDerzee – Caverly Speech
Congratulations to Laura and Mark!