Congratulations to the 2023 Caverly Award winners
Elizabeth Crane and Sara O'Shea!
These two gifted educators (from Brookline High School, biology, and the Heath school, 6th/7th grade ELA, respectively) were presented with their awards at the 2023 Celebrating Teachers event on May 9 in the BHS Auditorium. Click here to watch the entire 2023 Celebrating Teachers program.
Congratulations to the 2022 Caverly Award winners
Joslyn Vendola and Nicole Chasse!
These two gifted educators (from Brookline High School, ExCel math, and the Florida Ruffin Ridley school, kindergarten, respectively) were presented with their awards at the 2022 Celebrating Teachers event on May 10. Click below to watch their inspiring speeches!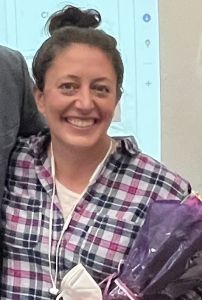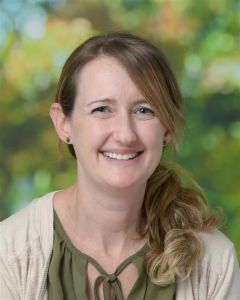 2021 Ernest R. Caverly Award Winners
Francesca Stark, Driscoll School & Betsy Davis, BHS
See our blog post announcing last year's winners!
Since 1984, the Ernest R. Caverly Award has been presented to Brookline educators in recognition of professional achievements and contributions to the Brookline Public Schools. Two awards are given annually, one each to a high school and a K-8 school educator. Funded by the Brookline Education Foundation, each award consists of a $2,500 stipend and a gift. The educators receiving the awards are designated as Ernest R. Caverly Associates in recognition of their dedication to the ideals of Dr. Ernest R. Caverly, a distinguished public school leader, educator, and Brookline Schools Superintendent from 1931 to 1964.
Previous Caverly Award recipients include Laura Vish and Mark Van Derzee (2019), Beth Greenwood and Liz Gorman (2018), Dominique Ferdinand and Betty Strong (2018), Janice Gaudette and Jill Sifantus (2016), Alyssa Rubenstein Schneider and Stephanie McAllister (2015), Nancy Springer and Abby Erdmann (2014), Cathy Fischer-Mueller and John Andrews (2013), Suzanne Zobel and Roger Grande (2012), Ric Cass and Lisa Redding (2011), Bernard Pendleton and Elon Fischer (2010), Amy Neale and Ricardo Calleja (2009), Alicia Hsu and Ellen Lewis (2008), Marilyn Chetwynd and Eleanor Demont (2007), Ellen Goldberg and Patricia Herrington (2006), and Margaret Metzger and Mary Sodano (2005). For a complete list of Ernest R. Caverly Award recipients, please click here.
Eligible Candidates
Caverly Award nominees should exhibit exceptional achievement and contributions to the Public Schools of Brookline (PSB) and exemplify the PSB core values:
High achievement for all
Excellence in teaching
Collaboration
Respect for human differences
Educational equity
In addition to classroom teachers, nominees may include specialists, guidance counselors, and librarians. Each nominee must have at least seven (7) years of PSB service to be eligible. Part-time personnel will be considered. While the Caverly Award is not intended as special recognition for a retiring educator, retiring personnel will be considered.
Nomination Process
Colleagues should submit nominations in the form of a written letter, accompanied by a nomination form. This letter should be no more than 2000 words and should integrate testimony and anecdotes from various sources. The letter also should include information about the nominee's background, history in PSB, professional development activities, skills and achievements, and contributions to PSB and beyond.
Up to, but no more than, five (5) supporting letters from colleagues, Principal/Head of School, outside experts, parents, or students may be attached to the nomination letter. These supporting letters should be no more than 2000 words each. While letters from parents, students, colleagues, and the nominee's principal/headmaster are not required, most nominations include such documentation.
Announcement of Honorees
One high school and one elementary school educator will be chosen to receive the award by a committee consisting of recent Caverly Award recipients and members of the Board of Directors of the Brookline Education Foundation.