The Todd Saker Fund was established by a generous gift from Linda and Wayne Saker to honor the memory of their son Todd, a student at Baker School, who was a voracious reader.
The fund supports an annual tour to the Brookline Public Schools by a noted children's author, coupled with related curriculum to make the author's visit a more meaningful learning experience for students. The visit is intended to inspire a love of reading and writing in young people by introducing them to writing as an art and as a career choice.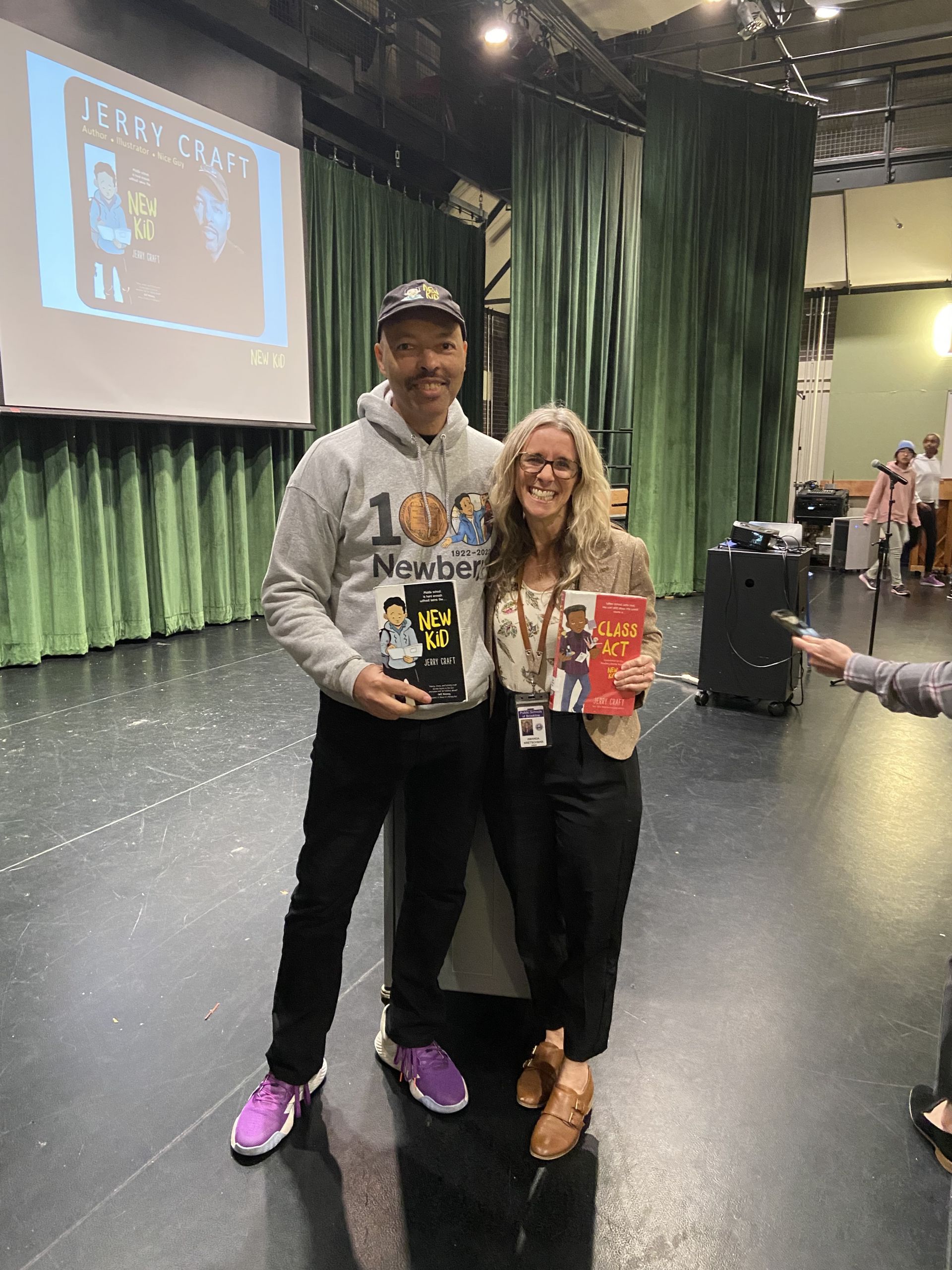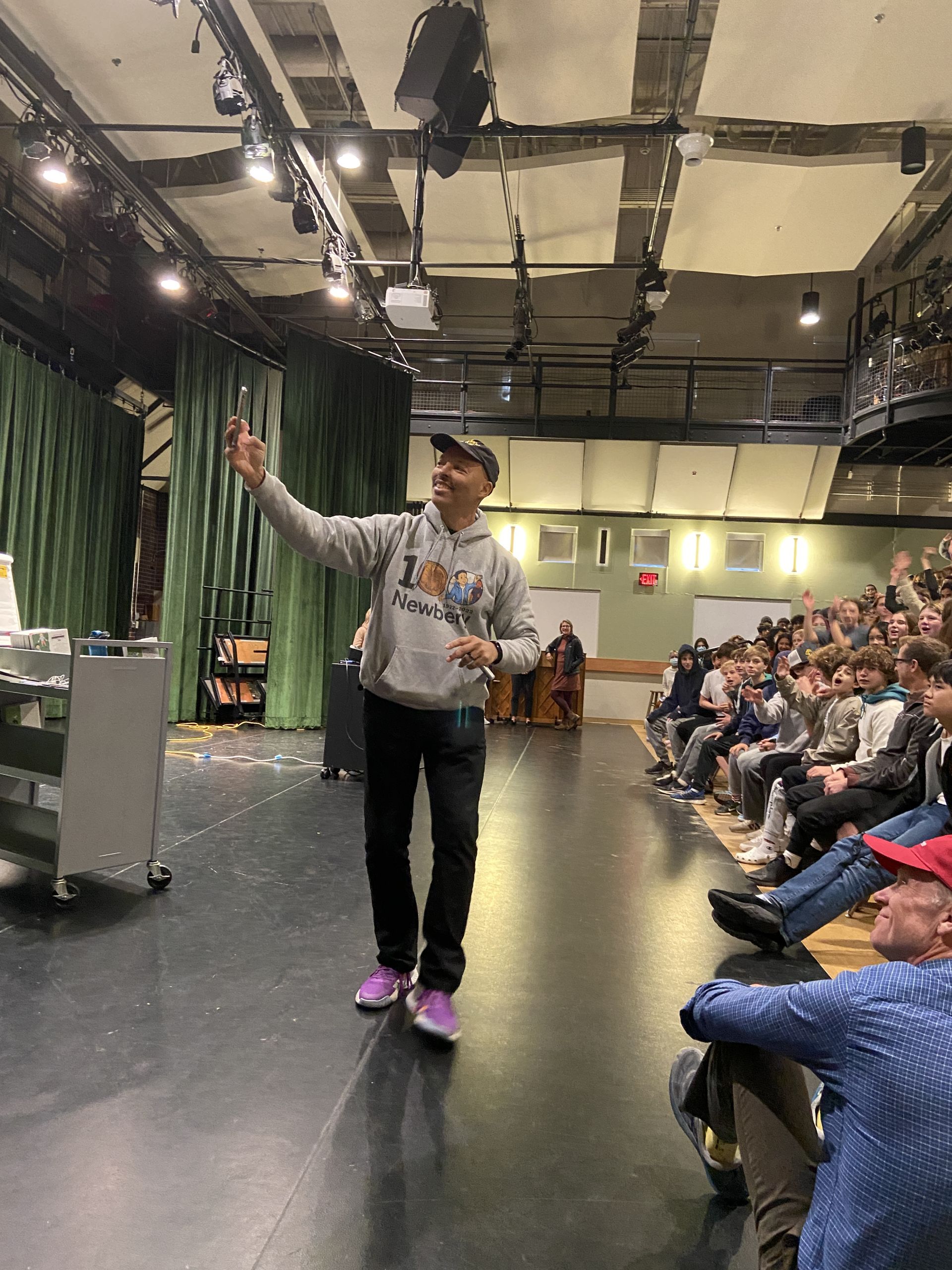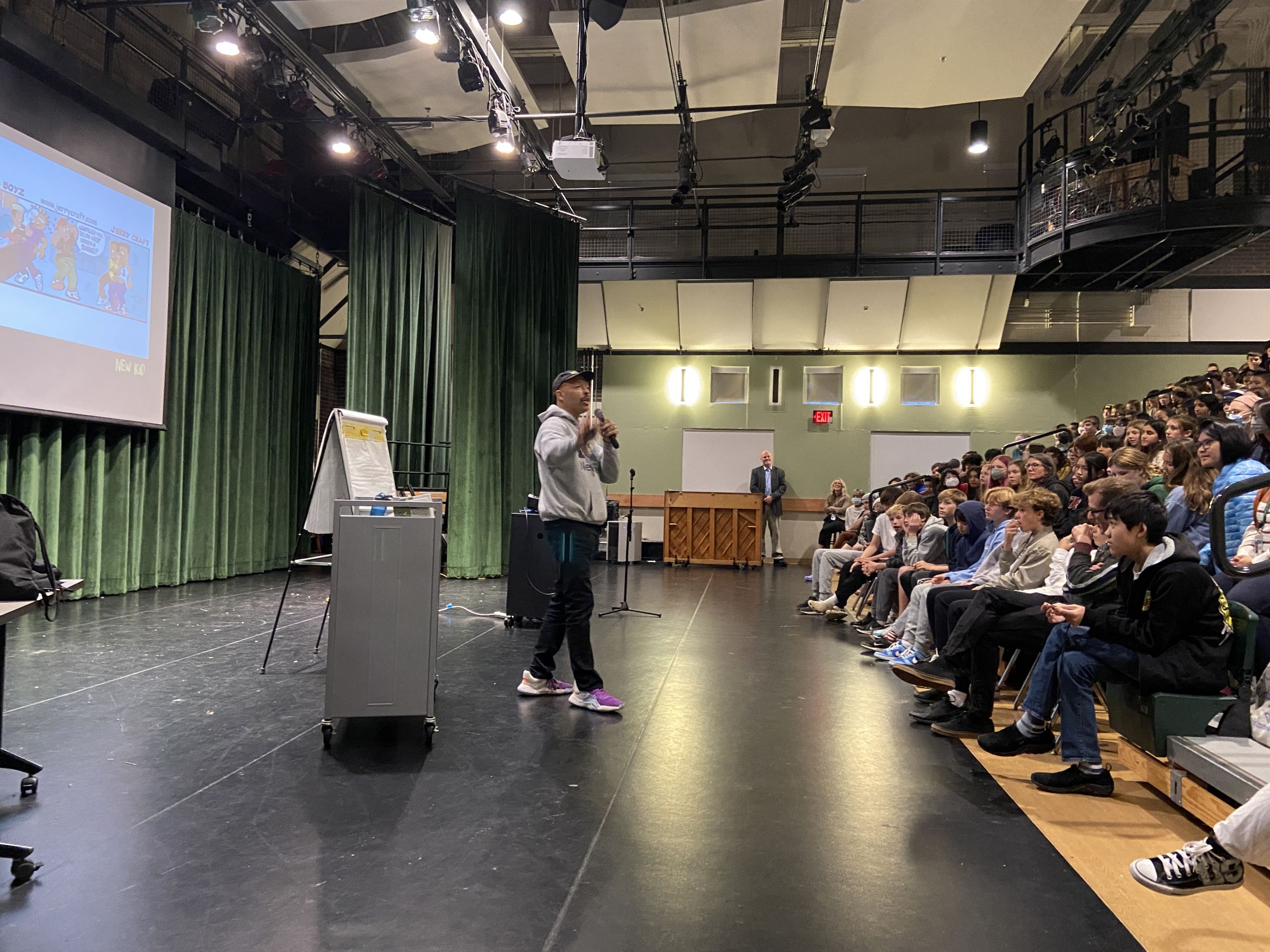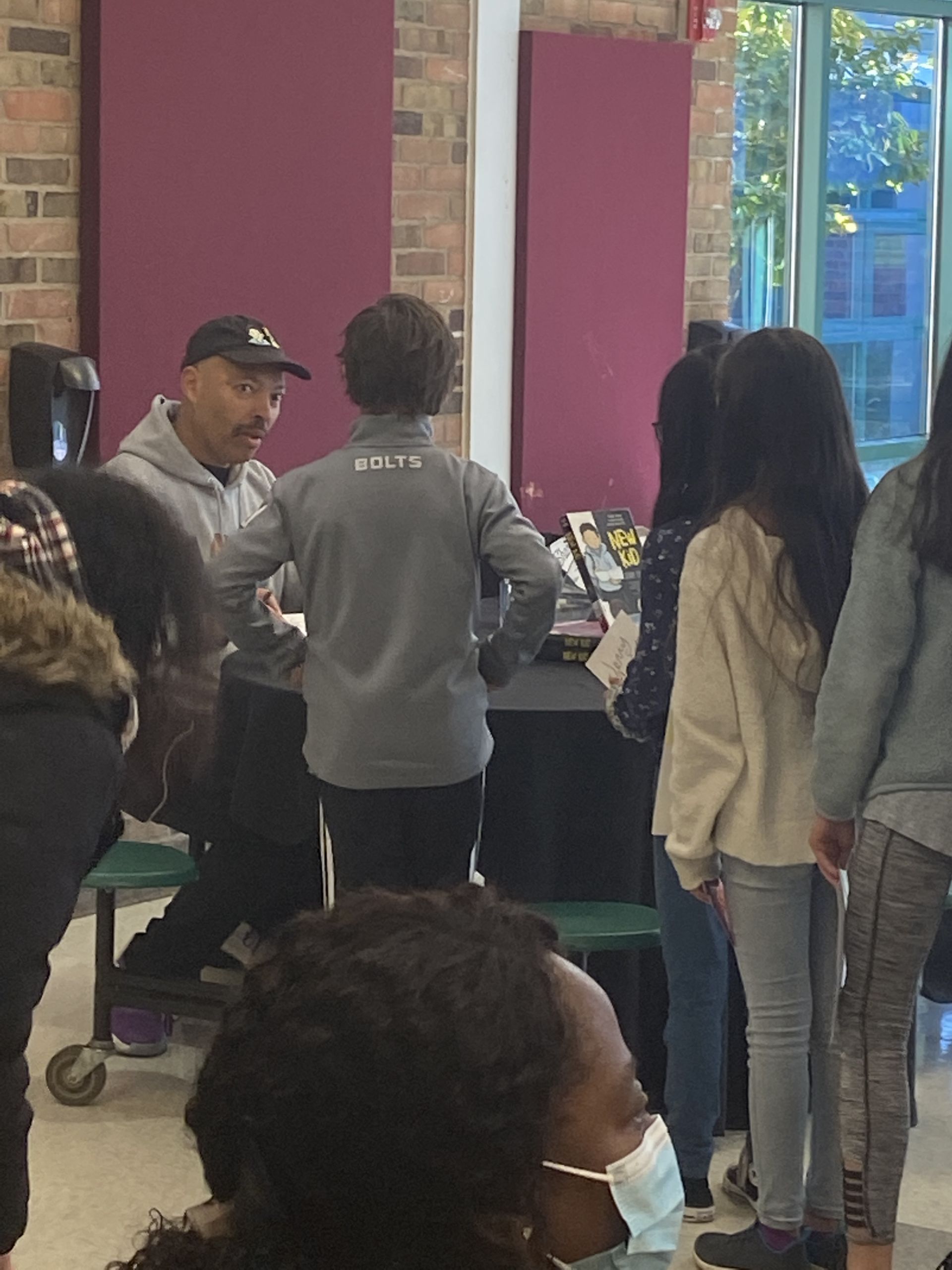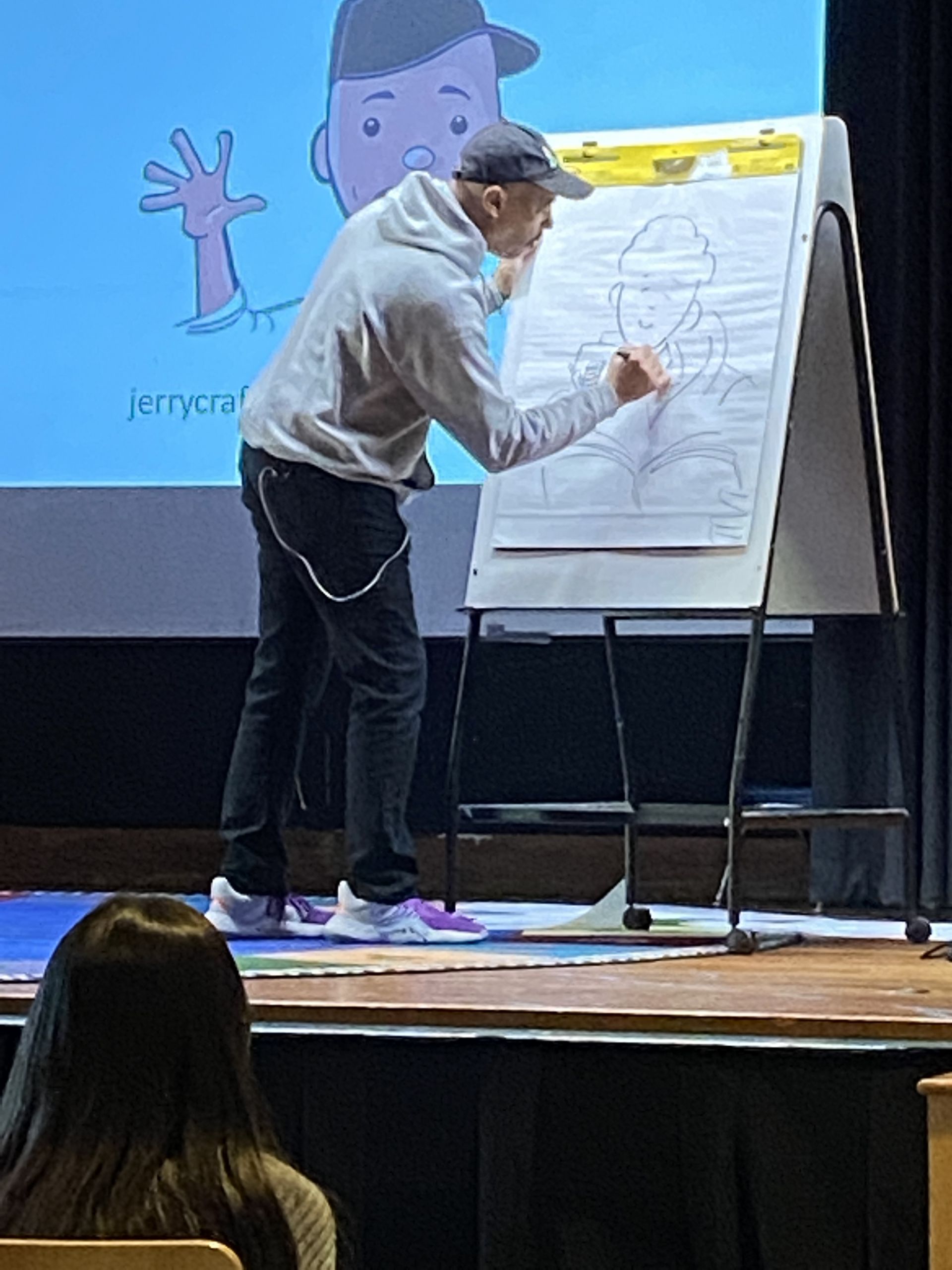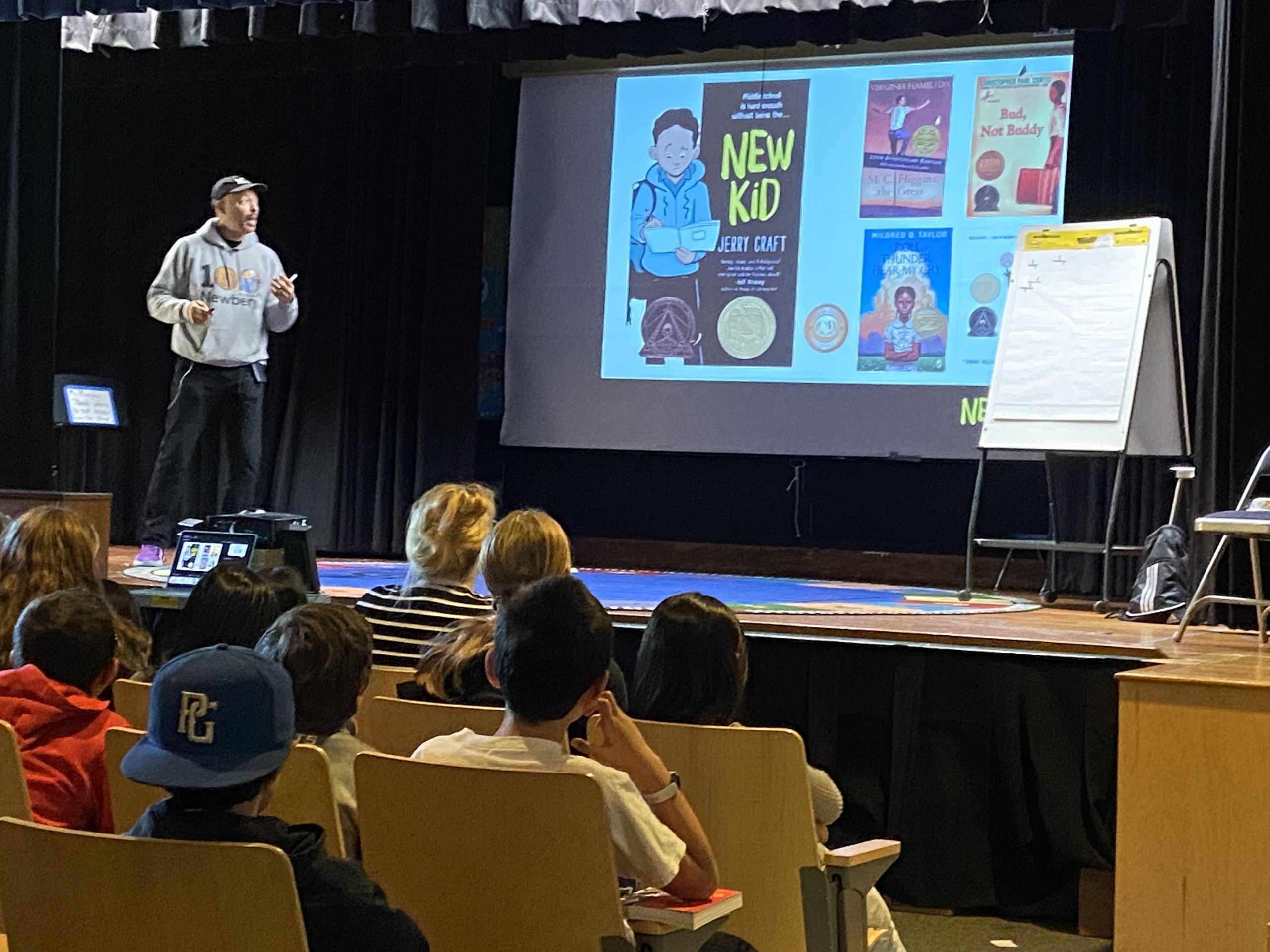 2022
In October, 2022, Newbery Award-winning author Jerry Craft (The New Kid) visited Brookline, thanks to the support of the Todd Saker Fund. Jerry visited Heath School and Pierce School, speaking to packed auditoriums at both. He signed books, answered questions, and even posed for selfies! It was a very exciting and inspiring day.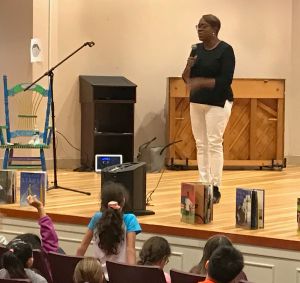 2019
In October, award-winning children's books author Lesa Cline-Ransome visited three Brookline schools: Runkle, Lincoln and Driscoll.
She is the author of many incredible books including the award-winning Finding Langston, as well as Game Changers about Venus and Serena Williams. Ms. Cline-Ransome spoke about her early beginnings, what is involved in writing a children's book, and how she began writing for children, as well as reading from a few of her books. This visit was made possible by the Todd Saker Fund, which was established in memory of Todd Saker, a student at Baker School, by his parents, Wayne and Linda Saker.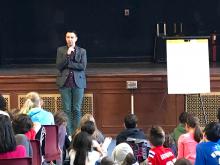 2018
In January, bestselling children's books author/illustrator 
Jarrett J. Krosoczka
 visited three Brookline schools and talked to students about his creative process, books, illustrations and never giving up on their dreams. Krosoczka is a two-time winner of the Children's Choice Book Awards Third to Fourth Grade Book of the Year and has been a finalist for the prestigious Will Eisner Comic Industry Award.
Lawrence (2nd through 5th grade), Pierce (3rd through 5th grade), Lower Devotion (2nd through 4th grade), and Upper Devotion (5th through 6th grade) students were captivated by Jarrett J. Krosoczka's storytelling!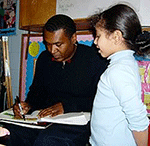 2015
Author/illustrator Eric Velasquez visited four Brookline schools on May 27th and 28th. On the evening of May 27th, the entire Brookline community was invited to a presentation by Mr. Velasquez in the Pierce School cafeteria from 6:30 to 7:30 PM. This event was hosted by the Todd Saker Fund.
Eric Velasquez has illustrated hundreds of books for children and young adults and also is an award-winning author. The event was free of charge and open to the public.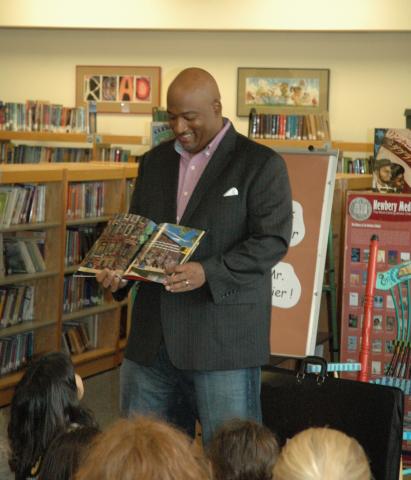 2012
Author/illustrator Bryan Collier, recipient of the prestigious Caldecott Honor award for illustration, visited six Brookline elementary schools. Students were riveted by his presentations of the creative process and original artwork for books. Collier has illustrated many children's books by well-known authors. His first foray into both writing and illustrating was with Uptown, which received the Coretta Scott King Award for Illustration and the Ezra Jack Keats Award for New Illustrators.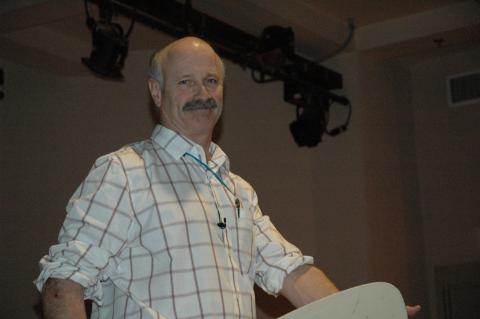 2011
During the 2010-11 school year, the Todd Saker Fund helped to bring adventure writer Peter Lourie to seven Brookline schools. Lourie's books, including his latest, Arctic Thaw: The People of the Whale in a Changing Climate, come directly from his travel journals. His school presentations provided an eclectic mix of storytelling and information about his world travels.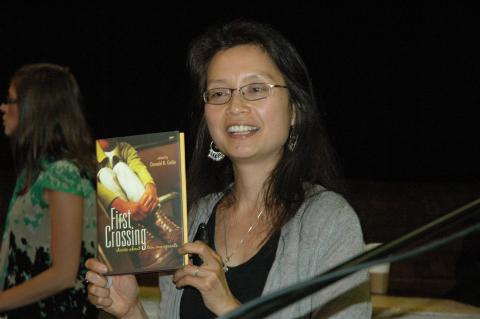 2010
In the spring of 2010, the Fund supported a visit to Brookline High School by Marie G. Lee, whose short story, "The Rose of Sharon," appears in the book First Crossing, Stories About Teen Immigrants. The book was chosen as the required summer reading book for all BHS students. Lee is a visiting professor at Brown University. Her novel, Necessary Roughness, is an ALA Best Book for Young Adults. She spoke at a BHS assembly for all students, including current 8th graders and conducted writing workshops for BHS students.

2009
Author/illustrator Grace Lin is as colorful, sunny, and fascinating as the books she creates. In her visits to Brookline's eight elementary schools in February 2009, Lin wowed her audiences with her "ideas" book, edited book drafts, family photos that served as the basis of some of her illustrations, early sketches of book illustrations, and, of course, the final product: fifteen original books for children.

2008
In spring of 2008, the Saker Fund co-sponsored a visit to all Brookline elementary schools by Mitali Bose Perkins, a prolific author of fiction that focuses on the lives of young people born or raised in a culture other than that of their parents. Some of Ms. Perkins' recent publications include Monsoon Summer, a Bank Street Best Book for Children, and The Not-So-Star-Spangled Life of Sunita Sen, an ALA Book for Reluctant Readers.

2007
In January 2007, the Fund helped to support a visit to all Brookline elementary schools by Caldecott Honoree Christopher Bing. A graduate of the Rhode Island School of Design, Bing is an award-winning editorial and children's book illustrator. His visit to the schools focused on his political cartoons and illustrations of the children's books Casey at Bat: A Ballad of the Republic Sung in 1888 and The Midnight Ride of Paul Revere.

2006
In October 2005, Todd's Fund helped to support a visit to Brookline High School by award-winning author Tobias Wolff. Wolff spoke to 1100 freshmen and sophomores about his searing coming-of-age memoir, This Boy's Life. He also met with junior and senior students in BHS "Craft of Writing" and Journalism classes. According to English Department Chair, Mary Burchenal, "The best part of [the visit] was the exposure it gave students to a gifted, articulate writer. In a world that highlights sports and show business superstars, it is important to remind students that there are other avenues to pursue and other ways to be inspired."

2005
David J. Smith, author of If the World Were A Village: A Book about the World's People, visited all eight elementary schools in Winter 2005 to share his experience as an author, to discuss the writing process, and to inspire a future generation of writers. If the World Were A Village reduces the world to a village of 100 people. Who lives in the village, what languages are spoken, and how fast the world is growing are among the issues examined. The book has won numerous awards and recognitions.

2004
The first Saker Author visit was a fitting tribute to Todd's memory. Students in Brookline's eight elementary schools were enthralled by children's author Yangsook Choi. Ms. Choi, named one of the most prominent new children's book artists of 1997 by Publisher's Weekly, discussed the creative process of book making, including using the imagination, getting an idea, writing, and illustrating. Using her original sketchbooks, printer's proofs and paintings from her book New Cat, and drawing demonstrations, Ms. Choi introduced students to every stage of the writing process.