Congratulations to Dan Bresman,
Director of the School Within A School program at BHS
Winner of the 2023 Sperber Award!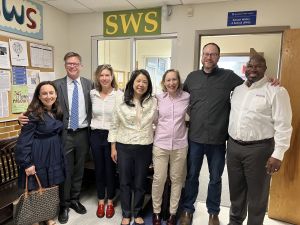 Please watch this space for details on the Sperber Award ceremony that will be held to honor Dan Bresman this coming fall.
The 2023 recipient of the Robert I. Sperber award was chosen from Brookline's talented pool of Principals and Vice Principals, Head of School  and Assistant Head of School, Deans and Associate Deans, Elementary Curriculum Coordinators, and BHS Curriculum and Program Coordinators.
Guidelines/Nominations Procedures: Any teacher, administrator, parent or Brookline citizen, with the exception of the Superintendent, Deputy Superintendents, Assistant Superintendent, and the Brookline School Committee, may submit nominations.
Nominees should exhibit 

exceptional leadership qualities a

nd have contributed significantly to the Public Schools of Brookline.

Only administrators with

seven (7) or more years of service in Brookline, not all of which need be administrative, are eligible.

Nominations should be submitted in the 

form of a written letter

. This letter should not exceed

2000 words

and must include information about the nominee's background, history in the Public Schools of Brookline, professional development activities, skills and achievements, and contributions to Brookline schools and beyond. The nomination letter should integrate testimony and anecdotes from various sources.

Up to but no more than five (5) supporting letters

from colleagues, outside experts, parents, or students may be attached to the nomination letter.
The recipient of the 2023 Robert I. Sperber Award for Administrative Leadership will be chosen by a committee consisting of former Sperber Award winners, recent Caverly Award winners, and members of the Board of Directors of the Brookline Education Foundation.
Deadline:  All nominations must be sent to the Robert I. Sperber Award Committee c/o the Brookline Education Foundation, P. O. Box 470652, Brookline, MA  02447, emailed to bef@brooklineeducation.org, or submitted using this form on or before March 24, 2023.
History of the BEF's Robert I. Sperber Award
In 1998, an award was inaugurated in honor of Dr. Robert Sperber, to be given once every five years to an administrator in the Brookline Public Schools who best exemplifies his ideals. Dr. Sperber was Superintendent of Schools in Brookline from 1964 to 1982. This award honors an educator who evinces excellence in both administrative management and strong leadership skills that have brought about positive improvement in the school system. These are ideals that Dr. Sperber espoused and practiced.
Award Recipients
2018: Janet MacNeil, former Pre-K to 8 Science Curriculum Coordinator
2013: Vicki C. Milstein, Principal of Brookline Early Education Programs
2008: Dr. Robert Weintraub, former Headmaster at Brookline High School
2003: Barbara Shea, former Lincoln School Principal
1998: William Grady, former Director of the BHS Opportunity for Change Program