Vicki C. Milstein, Principal of Brookline Early Education Programs, received the Brookline Education Foundation's Robert I. Sperber Award for Administrative Leadership on September 28, 2013, at a ceremony attended by over 350 supporters.
Speakers at the Sperber Award ceremony included Wheelock College President Jackie Jenkins-Scott; BEF President Margaret Talmers; Brookline School Superintendent and Deputy Superintendent Bill Lupini and Jennifer Fischer-Mueller; and Brookline School parent Laura Trust. Performancesy BHS a cappella group Note-a-fy, a video tribute by BATV, and a musical tribute from BEEP educators added to the festive nature of the event. The BEF was honored to have Doctor Robert Sperber, for whom the Sperber Award is named, make the presentation to Ms. Milstein.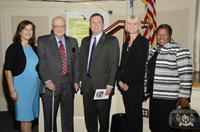 BEF President Talmers & other presenters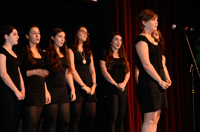 Note-a-fy sings "What a Wonderful World"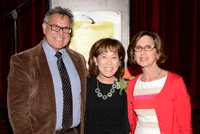 2008, 2013 & 2003 Sperber Award recipients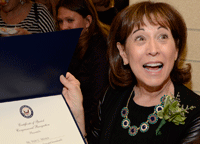 Vicki receives a Congressional Certificate
 To view BATV coverage of the entire event, please click here.
As a tribute to Ms. Milstein's remarkable dedication to early education in Brookline, the Commonwealth, and the nation, the Brookline Education Foundation (BEF) has announced the establishment of the Vicki C. Milstein Early Education Fund. The fund will support grants to preschool and kindergarten teachers through the BEF's Teacher and Collaborative Grant programs to enhance the art of teaching in the early childhood classroom. Donations to the fund may be made in Vicki's name here.
About Vicki
The 2013 Sperber Award celebrates Vicki Milstein's extraordinary life-long service to early childhood education. Throughout her career as classroom teacher, administrator, principal, and consultant to public and independent schools, Vicki has been a leader and a strong voice for providing an inclusive environment that honors each child's unique path to achievement.
Vicki has served as an administrator of the Brookline Early Education Program (BEEP) for 16 years. Her direction, guidance, and mentorship have fostered this exemplary program, where children with a range of developmental levels and from diverse cultural backgrounds can learn social competency; develop cognitive, motor, and language skills; and expand their understanding of themselves and the world in which they live. In 2006, Vicki was named the first Principal of Brookline Early Education Programs, which includes administration of 22 pre-kindergarten programs with over 320 students as well as all Brookline kindergarten classrooms.
Vicki's intelligence, warmth, wisdom, compassion, humility, and love of children are evinced in all that she does. Her knowledge of the young learner is unparalleled and her ability to articulate this knowledge in conversation and writing is exceptional. When she speaks about how children learn, what children need, and what teachers who teach them need to know, the education community listens.
Vicki's dedication to early education extends well beyond her involvement with Brookline Public Schools.  She has become a vital part in developing future educators by building a strong partnership with the Massachusetts Department of Early Education and Care and several local colleges and universities. She also works with many organizations to help promote continuing education for teachers by serving as a presenter at the National Council of Teachers of Mathematics, the Association for Supervision and Curriculum Development, and the National Association of Education of Young Children.
2013 marked the 15th anniversary of the Sperber Award, which was instituted in 1998 in honor of Dr. Robert Sperber, Superintendent of Schools in Brookline from 1964 to 1982.  Ms. Milstein is the fourth recipient of this award, which recognizes educators who evince excellence in administrative management and strong leadership skills that have brought about positive improvement in the school system.