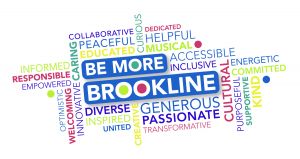 The Brookline Education Foundation is happy to announce its collaboration with other nonprofit organizations in Brookline to create a campaign called Be More Brookline! Be More Brookline is encouraging Brookline residents to support local organizations now, during the holiday season, and always! Support can come in a variety of forms, including volunteering, donations of money or goods, and even sharing information with friends and neighbors about these organizations in person or on social media.
We are thrilled that we are collaborating with the other organizations in Brookline, so that we can share our knowledge and various areas of expertise, in order to work together to help to make Brookline a better, cohesive and unified town. It feels good knowing that we are working with other groups and that we can count on the generosity of Brookline residents to support many non-profit organizations in town that survive largely on donations
Please take a look at the many fabulous organizations that are part of Be More Brookline, and please give if you can!