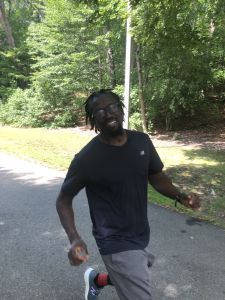 We are so grateful to all six of the Team Brookline runners who are raising funds to support the Brookline Education Foundation. Today we're highlighting Chima! Both a Lawrence parent and a Heath educator, Chima knows firsthand the value of the BEF's support of teachers. Here's a note from Chima:
As a late entrant into the world of distance running, I was 40 when I ran my first marathon in Chicago. I made it a goal to run the Boston Marathon, and the opportunity came in 2019 when I signed up to be a charity runner for the Brookline Education Foundation. Two years later and I'm at it again. BEF's mission hits close to home, and the opportunity to raise money for this dynamic organization is a no-brainer. As a special education teacher at the Heath School in Brookline, I have benefited from grants from the BEF; the training I have received through these grants has transformed my teaching and has resulted in positive student learning outcomes. This is why I am running in the 125th Boston Marathon for the BEF.
Team Brookline consists of runners from all walks of life and skill levels, and getting together for long runs on Saturday mornings offers the motivation I need. During the summer, I injured myself and took some time to recover. My teammates were there to support and encourage me, and cheered me on two weeks ago when I made my return to the course. I am very excited to once again be part of this endeavor, and might very well do it again.
Please
CLICK HERE
to support Chima and the BEF! And then come out on October 11 for the historic 125th running of the Boston Marathon, to cheer him and his teammates on to the finish line!