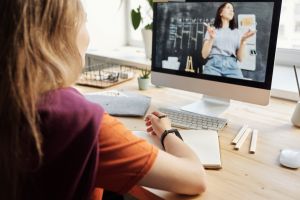 The BEF allocated $100,000 to support Brookline's teachers in building a robust remote learning model for the Fall.
In March, the school year was turned on its head as we all faced the first 100 days of a worldwide pandemic. Given the need to pivot all learning to a new, uncharted, remote environment, it's no wonder that our teachers, students and school community struggled. While online teaching improved as the weeks went on, it was clear that there were still ways to develop more robust instruction for every student. The BEF saw this unprecedented need, combined with grave fiscal cuts at the district level, and we knew we needed to help.
As always, the BEF looked to the teachers to tell us what they needed. This spring, we held multiple focus groups with teachers and specialists, at all grade levels, and meetings with district leaders.  We heard that teachers needed time this summer to collaborate and engage in professional development around remote learning. The BEF's Board voted to allocate up to a $100,000 to help teachers and curriculum coordinators do this important, difficult work. While many of these efforts are still 'in progress,' we are getting great feedback about all the learning that is happening, in such a short time. Brookline is so fortunate to have such dedicated educators who care so deeply and want to make their students' remote learning experience the best it can be.
Below, you will find an overview of the various ways in which this BEF grant is funding meaningful action this summer. If you have any further questions about the work, or wish to support these efforts, please reach out to us.