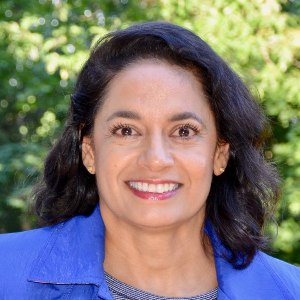 From Shalini:
I moved to Brookline in 2010 from Boston. My daughter went to John D. Runkle School and is now a Senior at BHS.
Education has played a prominent part of my life since my parents were both educators in rural Kenya, where I was born. Seeing how training future educators and providing access to good education transformed the lives of the staff and students at my parents' school, reinforced in me that every child deserves the best education available to them.
I first learned about the BEF at a Green Apple Event where teachers spoke about the impact of a BEF grant on their work. I was impressed with how the BEF supports and funds Brookline educators to develop skills in innovative ways, so they can bring these skills back to their classrooms and ultimately create a more enriching experience for all Brookline students.
The BEF was founded 40 years ago and the funding they have provided has positively impacted hundreds of educators and thousands of students over that time. Every Brookline student has benefited at some point in the Brookline school life from a BEF grant.
Every year the BEF board gets to see what Brookline educators are excited about, through their various grant programs. Brookline educators are innovative, creative, and not afraid to try new things. Being able to support them is a privilege and I am very grateful for the opportunity to be part of such a great organization.
More About Shalini:
Shalini Kasida is a leader and advisor for several non-profit organizations with a focus on mental health, trauma, education, and equity initiatives. Shalini has over 10 years of experience in building and growing non-profits with a focus on health and education for vulnerable youth in marginalized communities, both in the U.S. and internationally. For the past five years, Shalini has served on two non-profit boards that focus on vulnerable youth and education: Doc Wayne and The Brookline Education Foundation.
Shalini has previously worked as the Operations Director at Parents for Peace, a non-profit organization that focuses on prevention, intervention and rehabilitation of individuals that are moving toward a path of violent extremism. She also worked with Doc Wayne for two years on strategic planning, growing and managing their external training program to implement a global initiative to youth professionals to implementing sports-based therapy in their daily work.
Shalini is an advisor to several organizations, including the National Policing Institute's Center of Mass Violence and Expedition Ayiti where she was featured in a documentary promoting the work of local tourism groups in Haiti. Prior to Shalini's work in the non-profit sector, she worked for 25 years in leadership roles,
managing consulting practices, pre-sales and product marketing groups at enterprise software companies. She is a graduate of the University of Greenwich, London, UK.
Shalini was born and spent her first years in Lwak, (Nyanza province) Kenya. She went to school and college in London until she moved to Boston where she now lives with her husband and daughter. She loves to hike, bike, travel and ski.