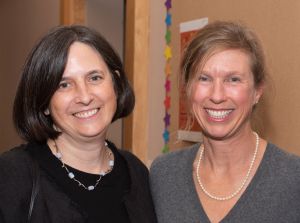 Farewell to Outgoing Board President Emily Dolbear;
Welcome to Catherine Burke! 
As we draw to a close of this crazy, topsy-turvy school year, the BEF wants to take a moment to thank outgoing Board president Emily Dolbear. Emily has served on the BEF Board since 2013 and has been a valuable member of the Executive Committee from her second year. As a Runkle and then BHS mother of two boys, she was the Vice President of Communications before taking over as Board president. Emily is an extremely thoughtful leader, who seeks out, listens to, and learns from feedback. She has led the Board during a time of major transition in the school District, and has managed to expertly focus on the big picture as well as the smaller details of the organization and the mission. Emily has been instrumental in codifying some of our Board responsibilities, in encouraging our Board to become increasingly diverse in many ways, and has done an excellent job in maintaining old relationships and building new ones for the organization. She has been an outstanding leader for the past three years, and we will miss her, but are happy to be welcoming her to our Board of Overseers.
However, we are lucky enough to be able to welcome Catherine Burke as our next BEF president! Catherine has been familiar with the BEF for many years, but only joined the Board in 2016. Catherine is also the mother of a son at Runkle, as well as a daughter who is now a teacher herself. Catherine has been a part of many committees in the BEF, was the Vice President of Communications, and this year was the Chair of the Trivia Bee committee as well as the Systemwide grant committee. As a Board member known for being able to do it all, we are thrilled to welcome Catherine as our new Board president.